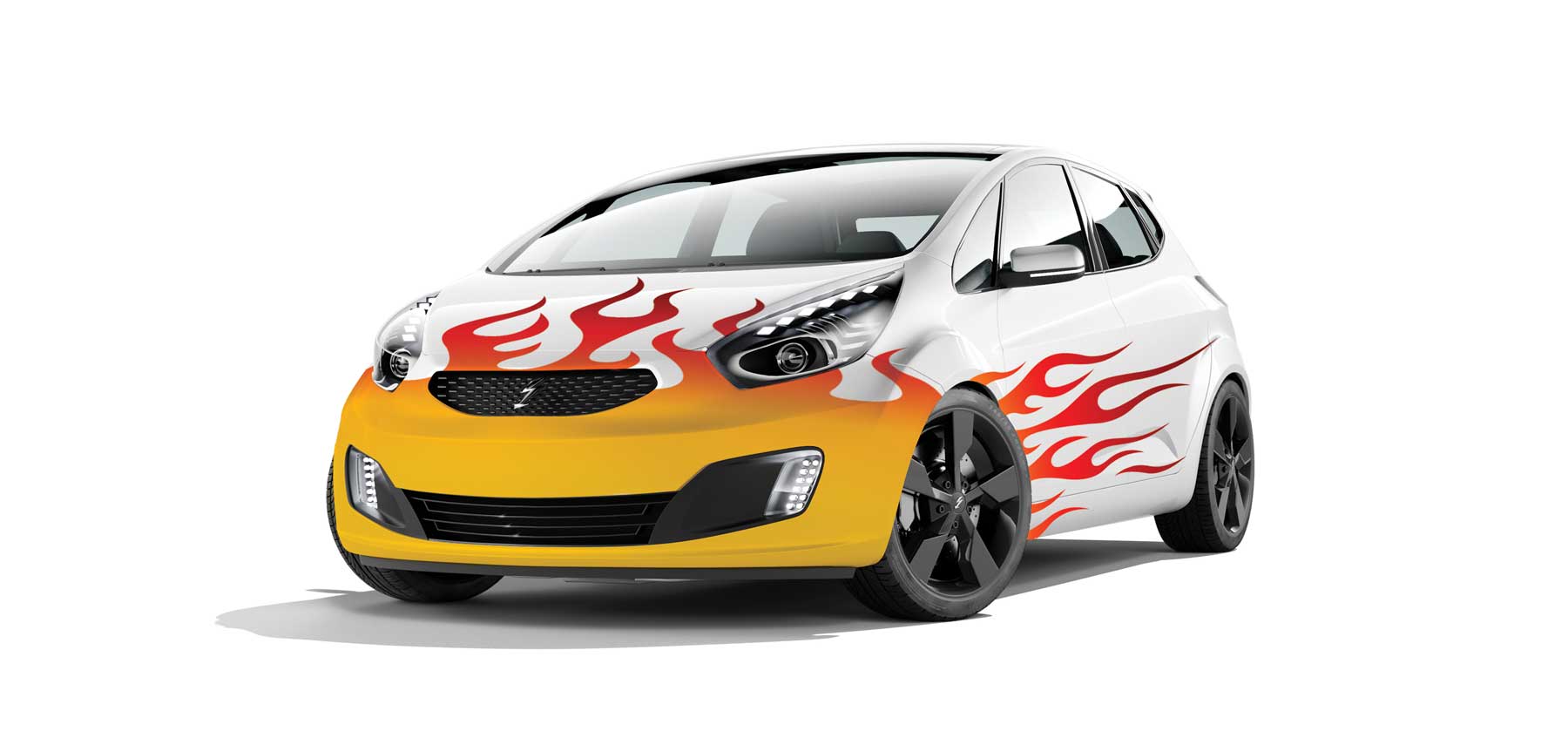 Charging your EV at home doesn't have to be slow.
Install an EV charging station and receive up to $1,500
Burbank residents may apply for a rebate to offset some of the costs of purchasing and installing one or two Level 2 charging stations, including the electric panel if an upgrade is needed.
Who's Eligible for the Program?
The program is open to all BWP residential customers, including tenants and residents of single and multi-family residences.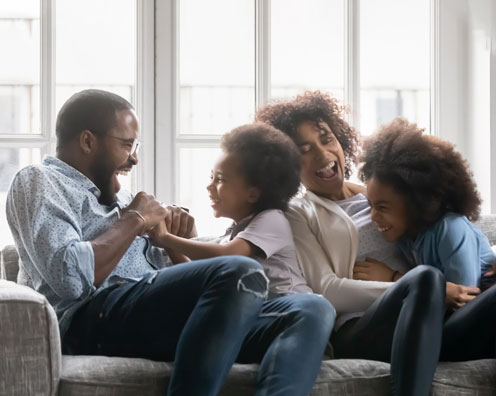 Single-family Residences
Modernize your home by adding a charging station for your electric vehicle.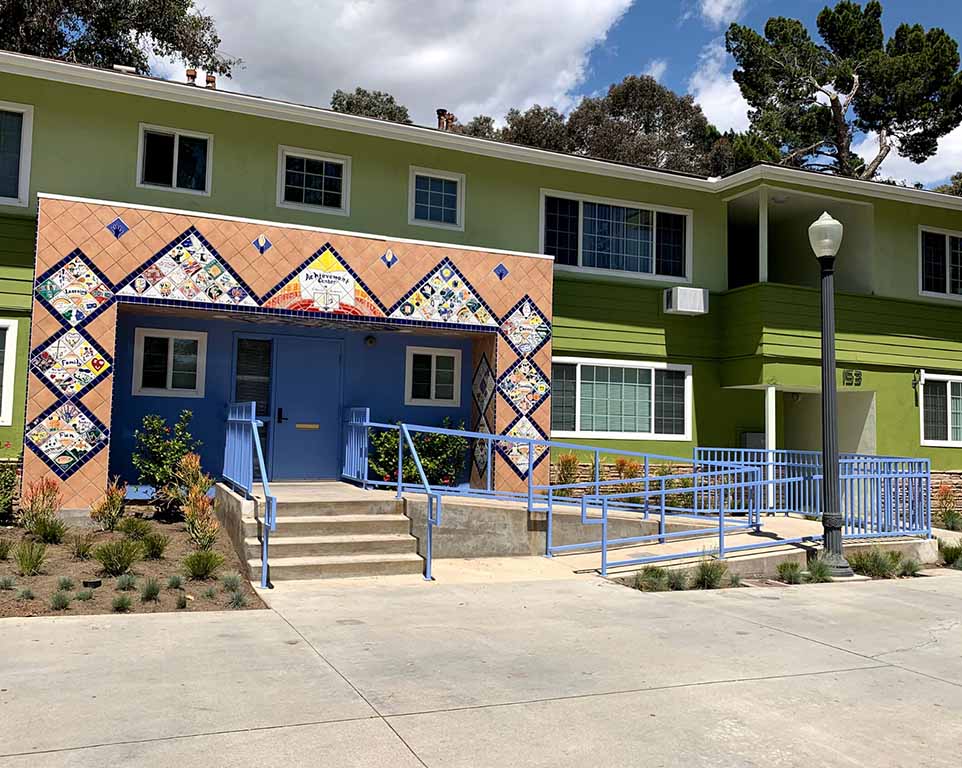 Multi-family Residences
Add a charging station to your unit to get access to faster charging where you live.
Residential customers can get rebates of up to $1,250 with an electric panel upgrade. Customers living in a Disadvantaged Community (DAC) area of Burbank can qualify for increased rebate amounts of up to $1,500 with an electric panel upgrade.
Rebates for EV Chargers and Electric Panel Upgrades
Residential customers can get rebates of up to $1,250 with an electric panel upgrade. Customers living in a Disadvantaged Community (DAC) area of Burbank can qualify for increased rebate amounts of up to $1,500 with an electric panel upgrade.
| | | | | |
| --- | --- | --- | --- | --- |
| | Standard Charger | Smart Charger | Panel Upgrade | Maximum Rebate |
| Residential Customer | $200 | $500 | $750 | $1,250 |
| DAC Customer | $300 | $600 | $900 | $1,500 |
What is a DAC?
DACs are the most pollution-burdened and vulnerable communities as designated by the California Environmental Protection Agency based on potential exposures to pollutants, adverse environmental conditions, socioeconomic factors, and the prevalence of certain health conditions.
Is your residence located in a DAC or non-DAC?
DACs are defined by the California Environmental Protection Agency. To find out, enter your address in the upper right section of the map below.
If your residence is located in an area shaded in red (CalEnviroScreen 4.0), it is eligible for the DAC rebate amounts.
If your residence is located in an area shaded in any color other than red, it is eligible for the non-DAC rebate amounts.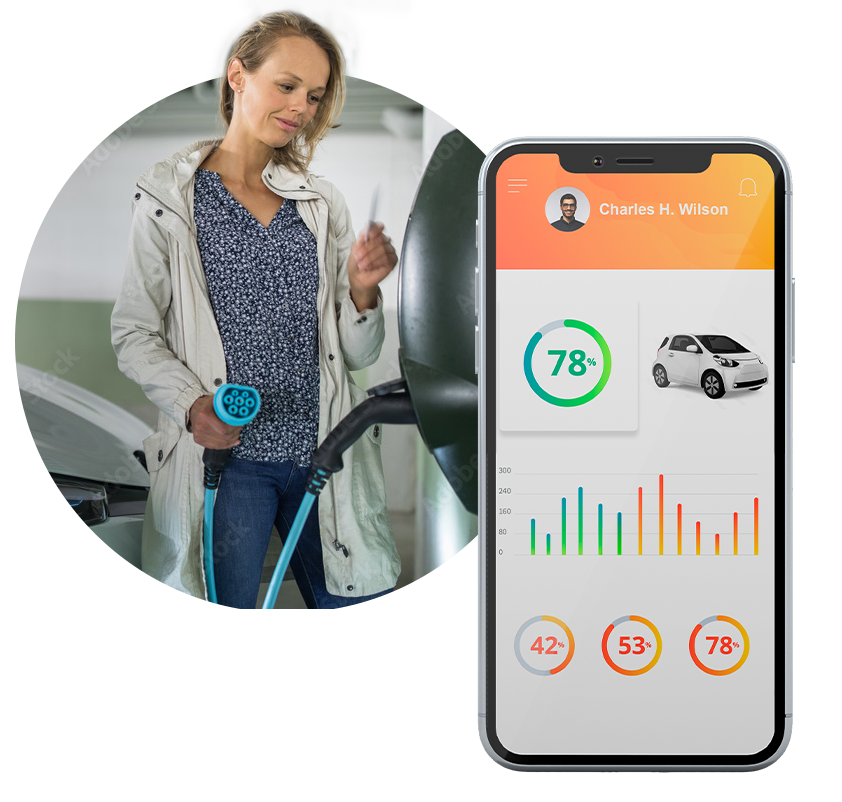 Is your charging station standard or smart?
Charging stations are considered "smart" if they have Wi-Fi/network capability with an active subscription to a qualified EV charging network. "Standard" charging stations do not have Wi-Fi/network capability.
Do you need a panel upgrade?
An updated electrical panel may be necessary for your EV charging needs. As part of the application process, a qualified Electrician will evaluate your home and determine whether or not you need to get a panel upgrade. If you do, then BWP will be able to offer you the panel upgrade rebate.
An upgraded panel also comes with some bonus benefits. It may open up new opportunities for electrification in your home, such as electric water heaters, induction stoves, or even home solar and battery storage. It's a great way to get started on your electrified future.
Important: Eligibility in the program requires participation in BWP's time-of-use (TOU) rate for EV owners for a minimum of 12 months. For more information about the TOU rate, please consult the FAQs.
Follow These Steps To Install a Charging Station and Apply For a Rebate
Now, it's easier than ever with rebates from BWP on home chargers and electric panels. BWP is here to help with charging stations, and to help make the process pain-free.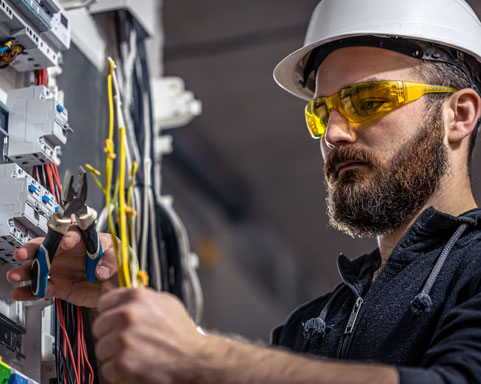 Hire a Licensed Electrician
Your electrician will help you decide where to install the charging station and will inspect your existing panel and circuits to determine if your residence needs a panel and/or circuit upgrade.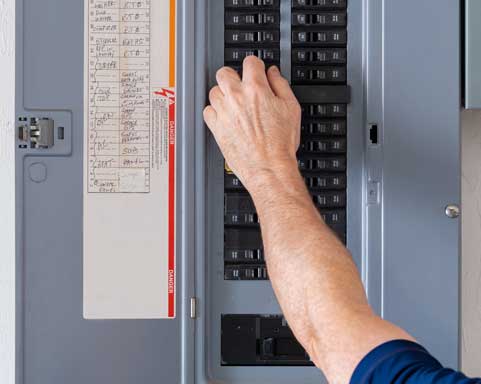 Contact BWP if You Need a New Panel
If your electrician determines that your residence needs a new panel, you (or your electrician) should contact BWP's Service Planning at (818) 238-3575 as soon as possible. BWP will inspect the electric infrastructure serving your residence to evaluate if an upgrade is also required. You will also need to receive a Confirmation of Electric Service following BWP's visit before your electrician can apply for the required permits.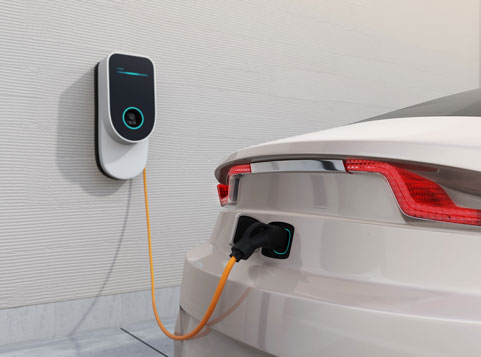 Purchase the Charging Station
Be sure that the charging station meets all technical requirements to qualify for a rebate. Please review the program's standard terms and our FAQs to review the technical requirements.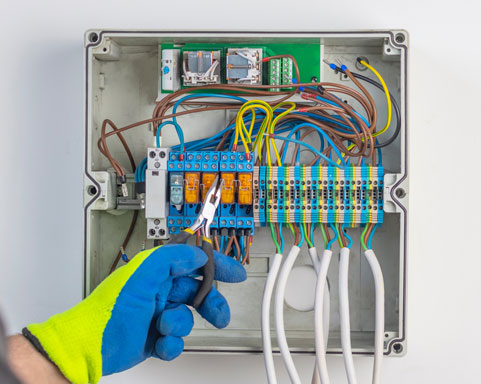 Install the Charging Station, Panel, and Circuit
Have your licensed electrician install the charging station and any panel/circuit upgrades needed. Make sure your electrician obtains all required permits and that your installation passes inspection from Burbank's Building & Safety Division. You will have to submit the permits as part of your rebate application. If you upgrade your electric panel, you or your electrician will have to schedule two visits by a BWP field agent- the first visit, to unlock your meter before replacing the panel and the second, after installation, to lock the meter again.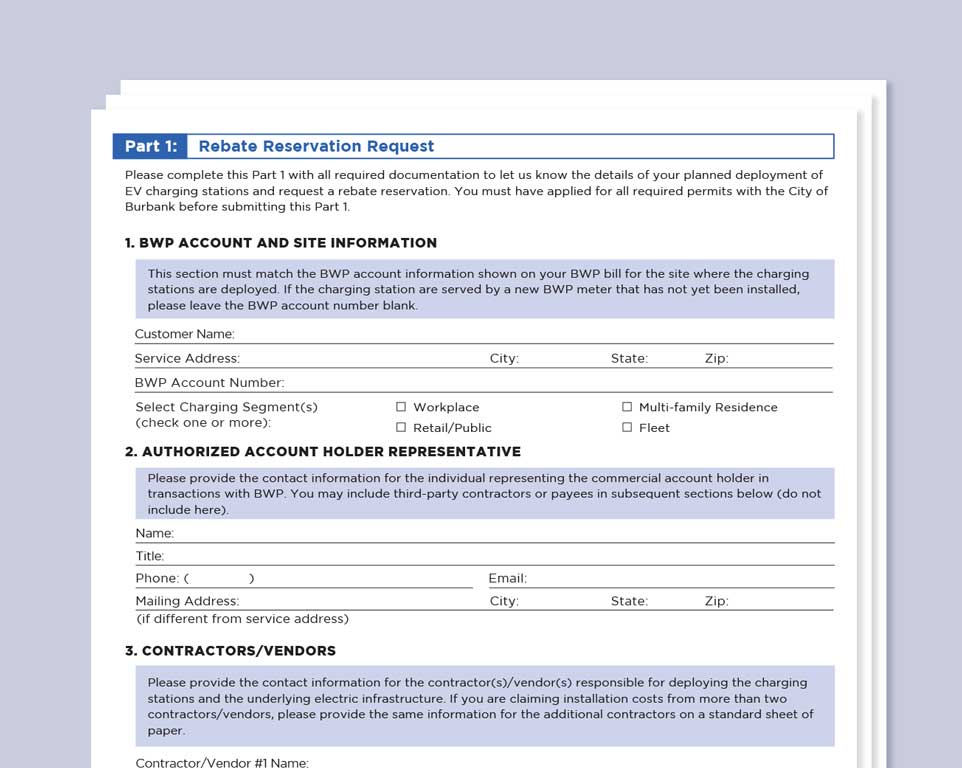 Note: If you live in a multi-family residence, you may have to work with your building management, owner, or Homeowners' Association (HOA) to install charging stations. BWP offers commercial rebates for multi-family residences to assist with installing charging stations.
In some cases, individual charging stations cannot be connected to your home meter. A commercial electric infrastructure upgrade may also be needed for your building. In these cases, your building management or HOA may need to manage the charging station installation.
Time-of-Use For EV Owners
BWP promotes and incentivizes Level 2 charging at the optimal time for the grid.
When you charge your EV between 11 PM and 8 AM (off-peak), you help maintain low electricity rates and contribute to cleaner air.
What You Need to Know
As you add EV charging to your household, your electricity usage will increase and your electricity bill may follow. However, your overall energy costs (electricity and gasoline) will likely decrease as you avoid trips to the gas station. Most EV drivers who charge at home will see immediate savings, especially when the cost of gasoline is high.
A time-of-use (TOU) rate provides the lowest energy cost available if you charge your vehicle after 11 PM. With a Level 2 charging station, your EV will be fully charged by the time you need it in the morning.
Your household energy costs may be higher between 8 AM and 11 PM, especially if you charge your EV during these hours.
Time of Use (TOU) Rate for Electric Vehicle (EV) Owners
With TOU, your usage is billed at a rate that varies based on the time of day and the season. This rate promotes shifting usage when renewables (sun, wind) are plentiful or when the overall demand for energy is lower.

Cost per kWh
Summer on-peak: $0.2903
Summer mid-peak: $0.1911
Summer off-peak: $0.1091
Winter mid-peak: $0.1911
Winter off-peak: $0.1091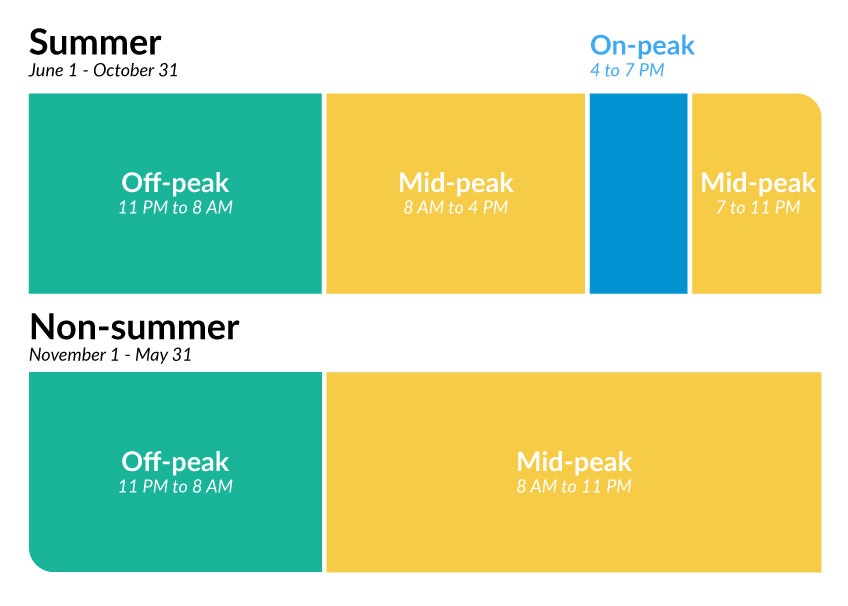 To begin the application process, you will need to download the Rebate Application.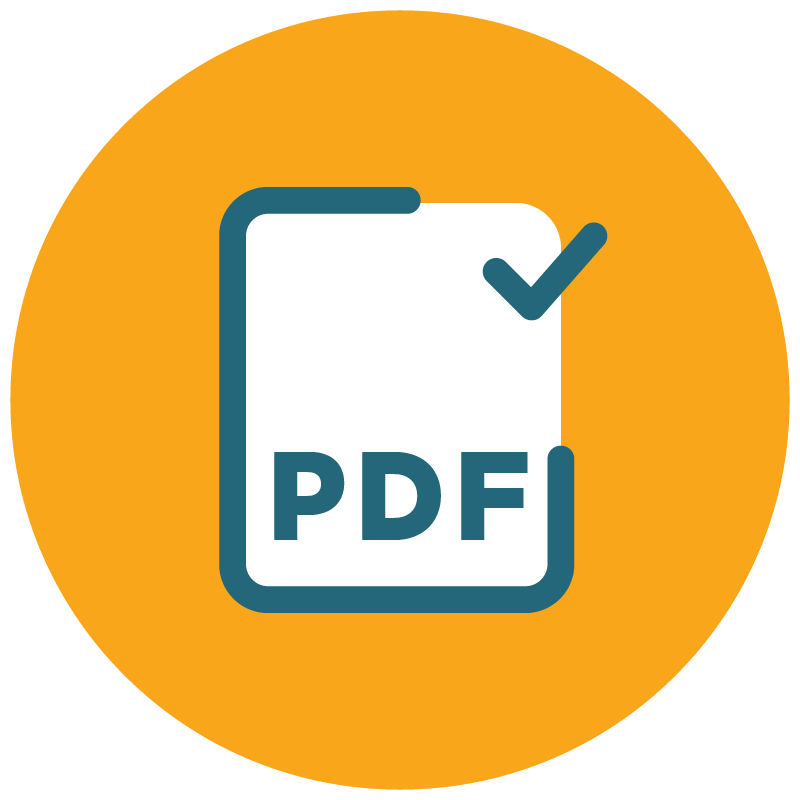 Residential EV Program Charging Station Rebate Application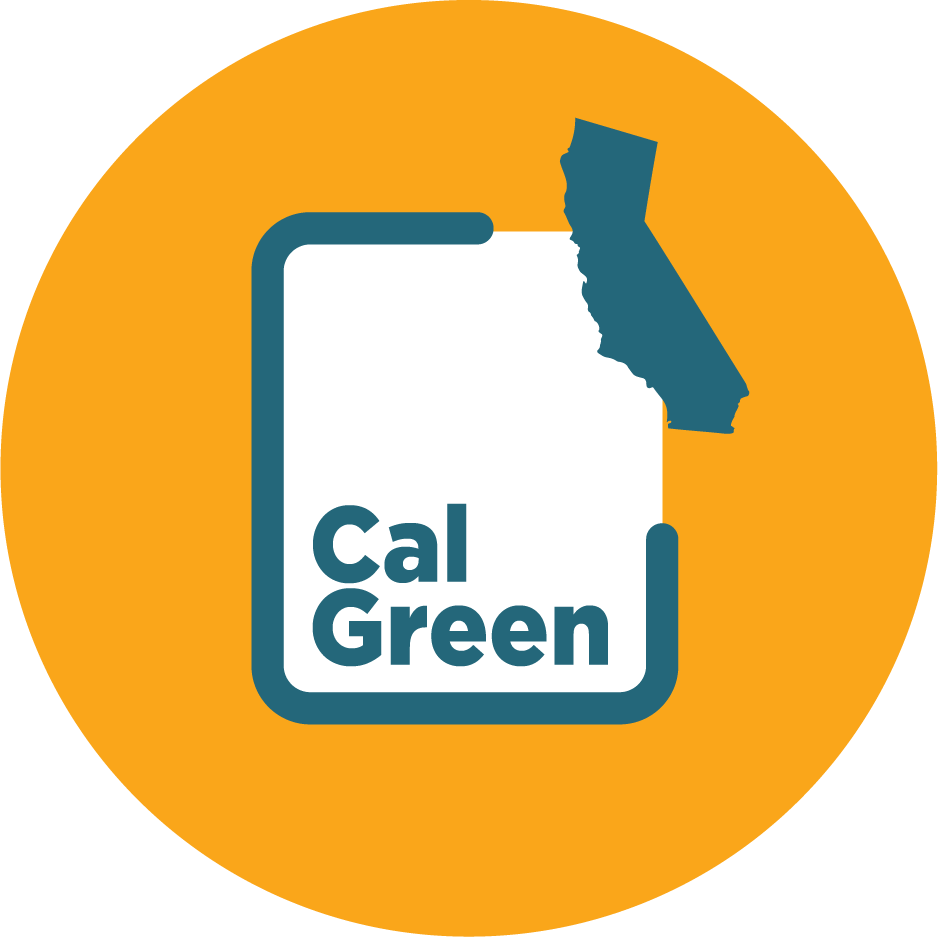 Certain EV charging installation costs incurred in compliance with the California Green Building Standards Code (CalGreen) are not eligible under the program.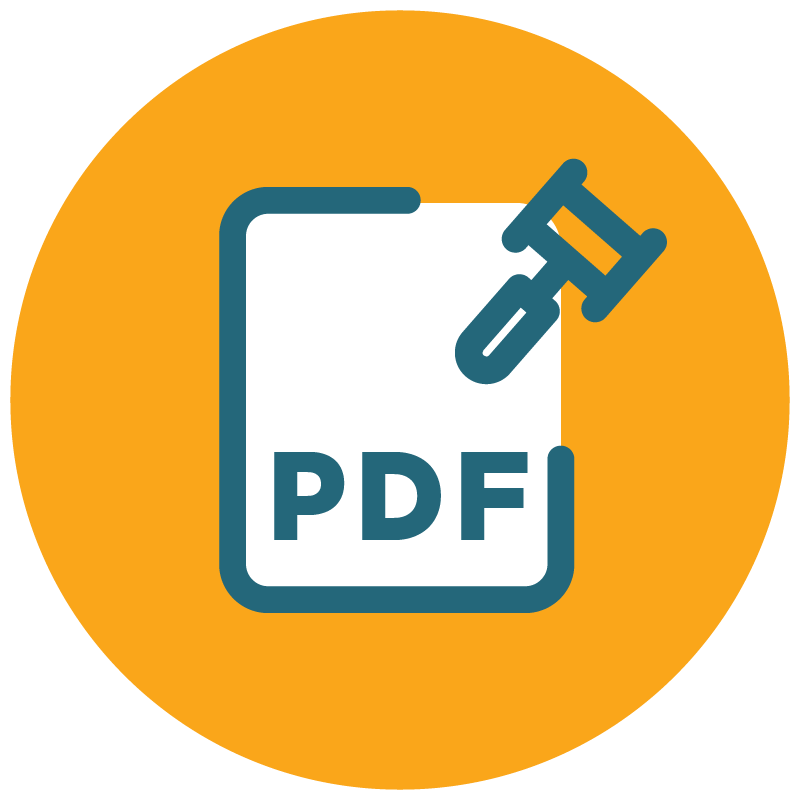 Apply for an appeal of your rebate application