Outdoor Watering Resumes
The Metropolitain Water District (MWD) has completed pipeline repairs ahead of schedule and outdoor watering can resume. As of September 19, 2022, Burbank is back to the Stage III Watering Schedule.

Thank you, Burbank, for stepping up and reducing your water use during the pipeline repair.
BURBANK IS BACK TO STAGE III
Burbank is now back to Stage III of the Sustainable Water Use Ordinance. Stage III limits outdoor watering to two days a week on Tuesday, and Saturday from April to October. In the cooler months of November to March, outdoor watering is allowed on one day a week, on Saturdays.
Outdoor watering is allowed before 9 am or after 6 pm, up to 15 minutes per irrigation station.
Attended hand watering is allowed any day, before 9 am or after 6 pm.
The Sustainable Water Use Ordinance does not apply to recycled water.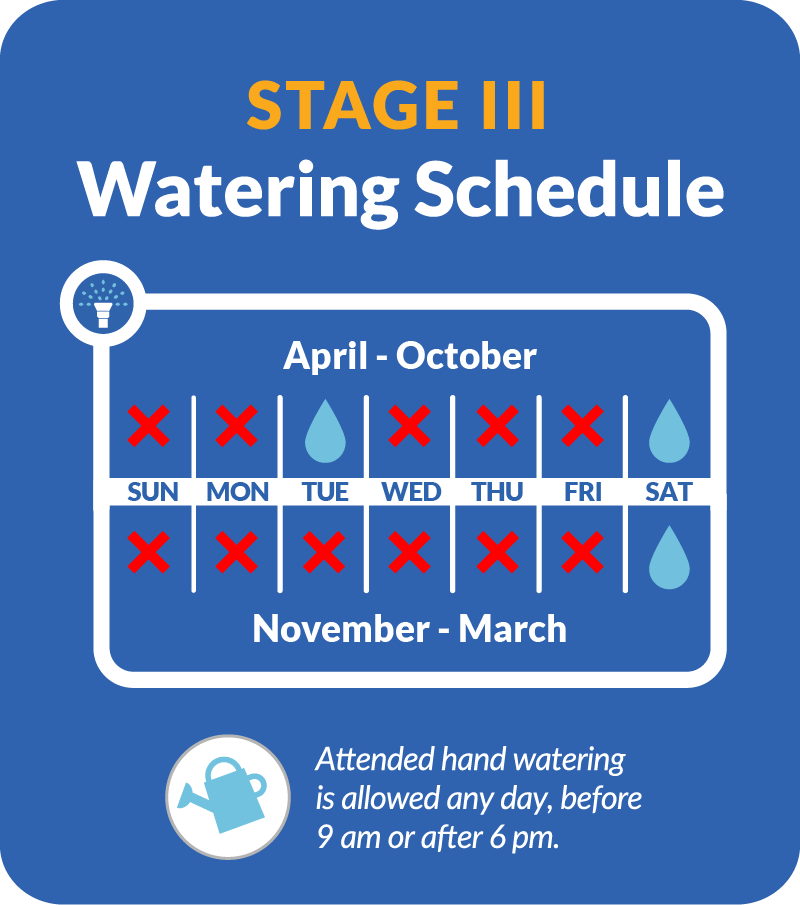 Statewide Emergency Water Conservation Regulation
On June 10, 2022, the State Water Resources Control Board adopted an emergency water conservation regulation in response to the current drought.
The regulation bans the use of potable water on decorative or non-functional grass at commercial, industrial, institutional properties, and common areas managed by homeowners' associations throughout California.
Businesses that use recycled water are not subject to this regulation.
The new regulation defines non-functional turf as a ground cover surface of mowed grass that is solely ornamental and not otherwise used for human recreation purposes. In addition to not applying to residences, non-functional turf does not include school fields, sports fields, and areas regularly used for civic or community events.
Customers must comply with this regulation or they will be in violation of the state's order. More information about the regulation, including a list of frequently asked questions, can be found on the
State Water Resources Control Board's website
.